Diving - Divespots around Koh Tao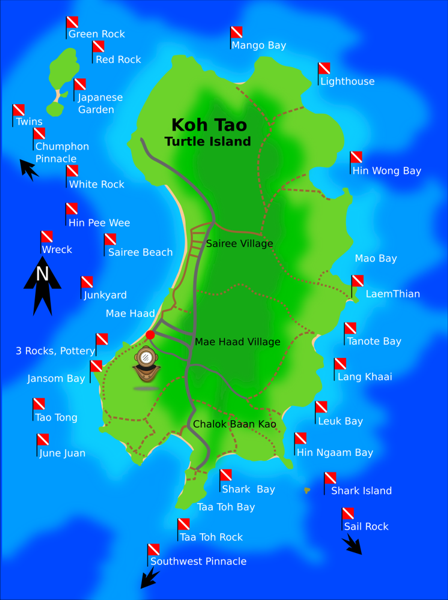 White Rock
White Rock is actually a chain of rocks which shines white through the surface at the shallowest part – hence the name of this site. A diversified uw-landscape of table, whip and soft coral as well as anemones awaits you here. There is a good chance to see harlequin-sweetlips, blue spotted stingrays, clownfish, batfish, six banded angelfish, banner fish, barracudas and mackerels. If you are lucky there sometimes is also a turtle at this dive site. If you are at the right spot at the right time you might see a hunting swordfish. At this spot the uw-landscape of the red sea and the Mediterranean see combine.
| | |
| --- | --- |
| White Rock | Twins |
| | |
Twins
Descending down the buoy lines you can discover the bizarre rock formations of the two pinnacles. Especially in spring the mackerels ate out to hunt swarms of juvenile fish, a natural spectacle you don't want to miss. If you want to see the famous "holy circle" (swimming inside will grant you an evil loo from guides), you will find a single anemone housing a family of saddleback clownfish. These fish are very rare here. Don't forget to have a close look at the bottom, sometimes you can find the Indian Ocean Walkman which is not seen very often. There also is a small dive parcours, where you test your buoyancy skills.
Green Rock
This massive rock shines green through the surface. Schools of fusiliers, yellow boxfish, banded sea snakes, sea slugs and angelfish are only a few of animalsyou will find at this spot. If you dive to greater depths you will find sea roses and big hermit crabs. Our guides will also be happy to lead you to the beautiful Cliffside where you can admire the rock structures of Koh Tao Island
| | |
| --- | --- |
| Green Rock | Red Rock |
| | |
Red Rock
This divesite offers you the chance to dive at Red Rock itself or the near shoreline. Another possibility is a one-way-dive from Red rock to Jap. Garden (divetime about 50-60 minutes. In this case you should have low air consumption). Red Rock is covered with wart-slugs and you might also find yellow boxfish there. At a certain times of the year it's also possible very often to see sea snakes on the hunt. During the one-way-dive to Japanese Garden you can discover the impressive rock formation of Koh Tao and also a couple of swim-throughs.
Japanese Garden
A variable coral-landscape which reminds of Japanese Zen-Garden is the reason for this divesite's name. Jap. Garden offers bizarre rock formations, coral gardens and a big variety of underwater life. We like to use this divesite for our beginner training because a big sandbank in the middle of the bay offers ideal training conditions. Yellowtail barracudas and eagle rays are only a few of species you will find here. Who likes to have a relaxed afternoon to take time for uw pictures can discover Jap. Garden on at least 6 different routes.
| | |
| --- | --- |
| Japanese Garden | Mango Bay |
| | |
Mango Bay
The eastern side of this Bay is characterised by huge coral fields and blocks. On your way through these beautiful coral gardens you can find blue puffer fish or giant porcupine fish lying on the ground. There is also a good chance to see yellow tail barracuda. On the west coast there is a reef along the coastline of Koh Tao in which you are likely to see the giant swarm of fusiliers that likes to swim around the divers. Cat fish, filefish, needle fish, angelfish and blue bioluminescence at night, are a few attractions of this beautiful divespot.
Hin Wong Pinnacle and Hin Wong Bay
Steep pinnacle and deep crevasses surrounded by big table rocks – that's Hin Wong Pinnacle. This is the feeding spot for a resident turtle. In the fields of whip corals you can find razor fish which are usually swimming in head-down position. The strange mix of Red Sea and Mediterranean Sea is very obvious at this spot. Angelfish and barracudas are very common here. In Hin Wong Bay coral-blocks and gardens make for a nice contrast. Along the coastline there are many small swim throughs. Porcupine fish, yellowtail barracudas, banner fish and sea slugs are only some examples of the abundant marine-life at this site.
| | |
| --- | --- |
| Hin Wong Pinnacle | Hin Pee Wee |
| | |
Aow Leuk
This divesite is home to turtles, sea slugs, blue spotted string rays and banner fish. A very nice spot, at which also dive beginners can start their first dive adventures at the near shallow beach. One-way dives for more experienced divers ate also possible and you will see also sometimes black tip sharks. This extensive divesite has an average depth of 15 meter so it is ideal for long and relaxed dives with the chance to discover a lot of marine life. If you wonder about metal cages int the water have a closer look. AWARE projects like this can be found all around Koh Tao to rebreed and resettle a new alms and corals.
| | |
| --- | --- |
| Aow Leuk | Shark Island |
| | |
Shark Island
The west- and eastside of Shark Island offer you a very different structure of underwater landscape. The depth range between 20-25m as well as the shallow range around 12 m offer the biggest variety of marine-life at this small island. Big schools of fish, puffer fish and nudi branches create a harmonious relationship to the rocky coral landscape.
Southwest Pinnacle
Like a huge mountain range this rock formation rises from deeper depths. Big swarms of fusiliers and schools of yellow tail barracudas can be found here, as well as giant groupers of up to 1.5 m length. If you look up close you can also find sea slugs, cleaner shrimps and a lot more in the cracks and crevasses of the rocks. A big highlight is that this divesite occasionally also attacks whale sharks.
| | |
| --- | --- |
| Southwest Pinnacle | |
| | |
Samran Pinnacle
The special features of Samran Pinnacle are the big schools of fish. The rock itself is covered with old fishing nets, which many of the resident fish have made their home. At deeper depths you will find big fields of white soft corals and there is also a chance to spot an occasional and often (don't confuse it with the codia, which are similar to remoras and often found in the company of grey reef sharks). We only offer Samran Pinnacle in combination with our Sail-rock-Trip. Please look up our web page "Day-Trip / Sail Rock".
Sail Rock
Because of the long journey we only offer this spot as a full day trip. Sail Rock can already be seen from a far distance. Other than the main pinnacle there ale also a couple of big rocks around 20m depth which should only visited when there is no current, otherwise you find it very hard diving around the pinnacle. The beautiful coral covered rock walls are split by crevasses and swim-throughs which offer protection to many different species of fish. You'll find more information on our web page "Day Trip / Sail Rock".
| | |
| --- | --- |
| Sail Rock | Chumphon Pinnacle |
| | |
Chumphon Pinnacle
You will already see this underwater famous mountain range from the buoy line. The top of the pinnacle is covered with an anemone field. On the steep cliff walls you can descend to depths of 35-40m. Giant groupers and schools of big barracudas as well as the lionfish, which is quite rare in the Golf of Thailand, can be found here. During the winter months grey reef sharks frequent this site and whale sharks are spotted frequently. Sometimes a remora will attach itself to a diver, quite an experience. Batfish and big hunting mackerels round of the dive to make it one of Koh Taos's top spots.
Divesites without description
| | |
| --- | --- |
| Laem Thian | Lighthouse |
| No Name | Tanote Bay |